The doctors we trust and love are being inaccurately and unfairly rated, ranked and reviewed like restaurants.
According to a recent Harvard study, it is costing them 10% of their practice revenue.  The culprits are online identity thieves, making billions in advertising revenues -- and they are getting away with murder.   More people seek out health professionals online than any other product in existence. In fact, according to a Pew study this year, 80% of all Internet users seek health information and half of them search for health professionals.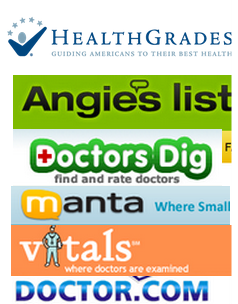 Doctors as the products and patients as the customers. 
Just like buying a digital camera, online health consumers are now bombarded with a sea of information on the doctors they are considering or seeing.  The data is organized, curated and presented in robust ways.  Rating, ranking and review websites have proliferated the web and successfully created a booming industry that is driven by billions of dollars in advertising. Shockingly, most doctors are oblivious to the fact that it has even happened. When you google a doctor's name you find three or more ratings on the first page – doctors names with stars from 1 to 5, ranking them like products. 
The aggravating aggregators
Each rating is based on unique and proprietary algorithms that aggregate data from numerous sources including qualitative anonymous online surveys. Dozens of rating sites, littered with advertising, feed this data to search engines like Google.  The search results for doctors often yield three or more different ratings within the first six results for a doctors name. In most cases you don't even find the doctor's practice website – you find 'ad supported identity thieves' who have leveraged search for doctor names, provided better search optimization and ultimately poached the search traffic away from the practice's neglected website (that represents the actual doctor).  The rating sites have up to a dozen advertisements on the landing page and even suggest physician alternatives – better 'rated' or paying doctors in the area.
The algorithms used by each site are almost always powered by magical and proprietary black box methods that go publicly undisclosed. Sound fishy? It gets worse… Any anonymous user can submit a rating on these dozens of websites. Most doctors see several thousand patients per year and a lion's share of these rating sites have no more than a dozen entries. It is hard to tell if the ratings are driven by outlier users that have something to prove or fueled by requests from the physician to rank them on these sites. Regardless, statisticians worth their weight in salt would bock at 99% of these results.  Our doctors, the people who have dedicated their life to improving the health of others – are being inaccurately and unfairly rated ranked and reviewed like restaurants.
It's about to get worse
Meaningful use and the affordable care act coupled with publicly disclosed outcome and efficacy ratings are about to open an entirely new type of rating and ranking. Imagine the differences in outcomes between a doctor serving an underserved poorly educated population versus a similar doctor with the same specialty serving only highly educated and health-conscious patients. Who gets the better rating? Who is the better doctor? How can reality be depicted realistically online?
Our doctors facts have been hacked on the Internet – everybody is entitled to their own opinions but not when they are presented as facts.  A poor rating resulting from only one participant is often ranked higher in the search results than better ratings with over a dozen participants.  This is misleading and confusing.  Second, the rating sites aggregate data from databases all over the Internet and are unable to verify the information before it is posted.  We've seen customers who are said to have three different specialties on one rating site – when only one is true. Physicians with numerous sanctions and even negligent malpractice convictions have better ratings based on anonymous online feedback and great bedside manner. Any hard-working and highly competent physician can mistakenly (and unfortunately) press the wrong 'button' belonging to a easily angered patient and get hammered online. 
There is Hope
When you buy something, you want to love it. People love using their phone now because Apple reinvented the phone experience.  Everyone is catching up or becoming irrelevant. It is our goal to help people find doctors they will love. And when they do find that doctor, that they feel connected them.  We want you to be happy with your decision.  We want you to be connected.
Until now, there has been no website that goes above and beyond to beautifully and painstakingly showcase the product patients are desperately seeking: their providers and practices.  Treatspace curates facts into a beautifully polished and designed online biography.
We're just now getting started, but we aim to recreate this experience.
John R. Saunders, Jr, MD, MBA, Executive Vice President and Chief Medical Officer of Greater Baltimore Medical Center recently said it perfectly:
Treatspace is a platform that serves as an online front door to a practice, group or system with functionality for patients to connect to their providers in a modern facebook type atmosphere